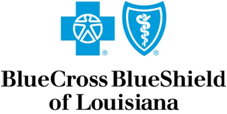 In Health: Blue Health Services
The Disease Management program administered by Blue Cross Blue Shield of Louisiana is available members enrolled in a Magnolia or Pelican plan and non-Medicare primary retirees at no cost. The program helps members with diabetes, coronary artery disease (CAD), chronic heart failure (CHF), asthma, and chronic obstructive pulmonary disease (COPD) improve and manage their health through health coaching with BCBS nurses and with educational materials.
By participating in the disease management program, members are 65 percent less likely to be admitted to the hospital. Participation in the disease management program can save money on certain prescriptions. Members will receive certain no cost generic prescriptions and will receive certain name-brand prescriptions for $20 (31 day supply) / $40 (62 day supply) / $50 (93 day supply). To participate in the program, you must be diagnosed with one of the above conditions and agree to talk to a health coach once every 90 days. If you are interested in enrolling in the In Health program, call BCBS at 800-363-9159 from 8:00 AM until 5:00 PM Monday through Friday (except holidays) or visit their website.