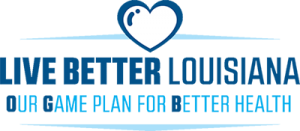 Live Better Louisiana
Live Better Louisiana is an OGB program that will give Blue Cross plan members* resources to help them better monitor their health, understand their risk factors and make educated choices that keep them healthier along with receiving a $10/month discount on their health care premiums. It's sponsored by Blue Cross and Blue Shield of Louisiana at no extra charge to members.
Live Better Louisiana is a game plan for better health. It's a proactive approach—a way to prevent illness when possible and to manage any conditions that do appear. Click here to learn more about Our Game plan for Better health.
* To be eligible, members must be enrolled in one of the following BCBS Health Plans: Pelican HRA1000, Pelican HSA775, Magnolia Local, Magnolia Open Access. Members enrolled in the Blue Cross Medicare Advantage plan, Blue Advantage, are not eligible to participate.
LIVE BETTER LOUISIANA NEWSLETTERS
2020
2019
2018
2017
2016
2015
2014
LIVE BETTER LOUISIANA HEALTH CAPSULES
2017
April: How is stress affecting your health?
May: Working Out at Work
June: Summer Safety
July: Colorectal Cancer
August: Metabolic Syndrome
September:Immunizations and Hand Hygene
October:Women's Health
November: Healthy Holidays
December: Respiratory Healthy - Preventing colds and the flu